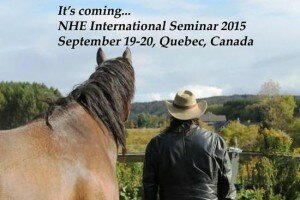 Michael Bevilacqua NHE Senior Representative and author of Beyond the Dream Horse is presenting the NHE International Seminar 2015 hosted by Cloé Lacroix
This seminar will explore Michael's own experience revealing the progressive change in himself & of his horses and re-visit the core of the relationship with the horse within NHE.
http://beyondthedreamhorse.ca/workshops.html
---
A private weekend to share with like-minded people from all over to focus on a unique approach and insight about how to bring the relationship to a new level, develop willingness, thinking, understanding in the horse without any type of force or punishment and to enrich ourselves. Discover the simplicity of what seems so elusive.
http://www.beyondthedreamhorse.ca/workshops.html