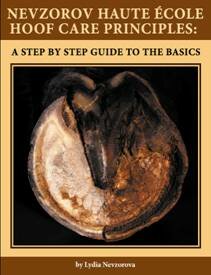 Nevzorov Haute Ecole hoof care is the most sound, simple and affordable method explained in an easy and comprehensive step by step guide with over 600 color photos. The book was written for the students of Nevzorov Haute Ecole but can readily be used by every horse owner who wants to trim his or her own horse. It is recommended for the novice as well as experienced trimmers.
This book is the translation of the popular Russian book, Nevzorov Haute Ecole Hoof Care Principles by Lydia Nevzorova, which continues the Nevzorov Haute Ecole series on Equine Management which includes volumes on stable setup, hoof care, blanketing and more.
This insightful series offers a revolutionary approach to horse keeping in a handy format brimming with valuable knowledge in an easy-to-remember fashion. Lydia Nevzorova imparts her wisdom and experience in a friendly conversational style that appeals to all levels of horse people.
This peerless atlas of equine management is an asset to every horse owner's library.
∙ professional advice
∙ 600 comprehensive color photos with detailed comments
from around the world
∙ over 100 valuable practical tips
Paperback: 200 pages
Fullcolor
Language: English
Product Dimensions:
8,5″ x 11″ (21.59 x 27.94 cm)
ISBN-13: 978-5-904788-29-2
* * * * *
Lydia Nevzorova is a certified specialist in hippology and equine thermography (musculoskeletal system). Editor-in-chief of the "Nevzorov Haute Ecole" publishing house, founder and leader of the Horse Revolution and NHE School. Internationally recognized journalist and photographer.
Visit; http://horse-revolution.com/product/hoofcare/