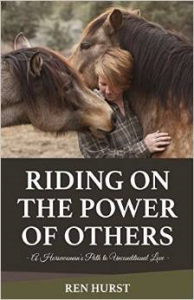 With great pleasure NHE recommends new released and already best-selling book of Ren Hurst. Really worth reading! Congratulations, Ren!
Ren Hurst finds her way to horses as a teenager, following a turbulent and painful childhood. They are her saving grace, her first experience of pure joy and freedom. She soon becomes a passionate horsewoman, intent on riding her way to the top. Her ascent takes an unexpected turn when compassion becomes the key component to success after she discovers an entirely new paradigm regarding equine understanding and practices.
This understanding leads her to walk away completely from riding and training horses and into a world where relationship is all that matters. These innovative currents of change reveal themselves to be demanding and controversial, but also exceptionally rewarding and unavoidably far-reaching into Ren's personal life. She embarks on a wild quest of radical transformation, finding an ever-deepening compassion for herself and all life around her.
This book is the story of a woman's metamorphosis through her falls, rises, and life-changing insights, under the wise and benevolent guidance of a mystical and fascinatingly powerful animal.
Available on Amazon