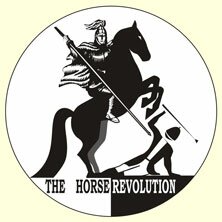 ---
The truth about Natural Horsemanship
"In NH a horse has its part of course. But it matters no more than a cow matters in a barbeque. Its role is integral and even critical, but totally unenviable.
Sure, NH has its "front end" which is shown publicly. Everybody sees and knows it while it is presented by business disciples of Pat Parelli, who is now considered the head of HN.
The "back end" is just a collection of simple tricks taken from cattlemen, some specifics and a firm knowledge that there are thousands of "fat ladies" who want to "have a ride" but are scared of horses.
Take for example a "carrot stick" - the mandatory tool of NH. Practically it is a simple scourge. Not even a whip, but a scourge, because it has a long rigid handle and length attached to it. It has scourge's usual impulsive force and it is used (as any scourge is) for delivering single or multiple blows. The difference is that a "carrot stick" is painted in jolly orange.
All in all, the whole scourge story shows more profound study of a horse's psychology which is unnatural for parellists. But this study is as specific as everything else in this charming method.
There is a firm confidence that a horse would prefer to be beaten with something carrot-colored.
As for a spurs, they do not have some sweet name or some affectionate diminutive pseudonym. But we all know that NH-method is still new, so spurs will get their name sooner or later. Possibly it will be something kind, encouraging and lovely.
Generally speaking, there are a lot of words on the subject of "love" said and written in NH, as in any other half-blood method.
But the meaning of the word "love" is never explained. Assuming that publishers of "XXX-porn" illustrated magazines claim that their issues are dedicated to the subject of love, we can not dispute the use of this dubious term.
But we should always remember that "NH love" is a kind of show that is suitable only for a prepaired and very cold-blooded audience.
This show is composed of thousands of bottoms that are itching from the keen desire to "take a ride", thousands of ladies with orange scourges and castration pincers atilt... "
Alexander Nevzorov
Read the rest of the article in one of the soon-coming issues of Equine Anthology.